ih - 45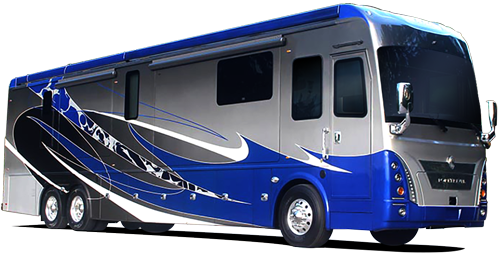 FLOORPLANS
Current ih-45 floor plans
KEY FEATURES
The result of 50 years of experience.
Cummins X15 605hp Engine
Electric Floor Heat
Pneumatic Pocket Doors
Slumber Ease Luxury King Bed
Custom Laminate Cabinetry
More
SPECIFICATIONS, FEATURES & CONSTRUCTION HIGHLIGHTS
ABS anti-lock braking system w/automatic slack adjusters
Air disc brakes on all wheels
Air hose for tire service
Air quick connect in storage bay
Alcoa aluminum wheels w/ Dura-Bright protection
Allison 6 speed transmission MH 4000R w/ retarder
Automatic traction control (ATC)
Auxiliary 12v air compressor
Chassis - TravelRide II by Foretravel
4 outboard-mounted air bags (drive axle)
2 air bags (IFS front axle)
Engine - Cummins ISX 600 HP
Fuel filter/water separator
Front axle - IFS (independent front suspension)
HWH - computerized air leveling system
20,000# / 2,700# tongue Rated receiver hitch
Michelin Tires: 365/70R22.5 Front 315/80R22.5 Rear
Awning, roof-mounted, electric patio w/ lights (2)
Topper Awnings on Slideouts
Auto motion sense storage bay lights
Cargo tray, electric sliding (2)
Consolidated components bay
Docking lights, LED (4) with switch in dash & bedroom
Exclusive Foretravel wheel Lock Nuts
Dual-pane tinted & insulated windows
Easy view one-piece windshield
Electric entry step (Executive)
Electric utility reels - water & power
CosmoLite roof – One Piece, Stain and UV resistant
FRP sub floor (one-piece)
Fuel fill - on both sides of coach
Electric gray water bypass for holding tank
Ground accent lighting ( Color Changing )
Heated/remote chrome mirrors w/LED turn signals
Fresh water plumbing supply manifold
Xenon low beam headlights
Paint protection below windshield
Painted exterior, full body paint w/ clear coat finish
Remote storage door locks
Stainless steel lined utility bay
120v receptacle & soap dispenser
50 amp shoreline connection
Portable satellite connection
12 volt accessory receptacle
Dual 1 amp USB charge receptacle
Battery boost switch / auto-charge
Camera, motorized back-up with control at dash
Cameras, mirror mount w/ color back-up monitor
Dedicated driver monitor for rear and side cameras
Compass & outdoor temperature
Co-pilot seat, Villa residential 6 way power w/footrest & headrest
Dash AC fan controls for co-pilot
Generator auto start/stop
Infotainment system with GPS, AM, FM, CD Sirius/XM, Bluetooth, USB, and iPod compatibility
Passenger monitor with DVD / GPS / Satellite viewing
Map lights, pilot & copilot
Pedals, throttle & brake power adjust
Pilot seat, Knoedler air ride
Silverleaf 12" digital glass dash
Steering wheel, power tilt & telescoping
Steering wheel, Smart Wheel, w/Radio Controls
Windshield / privacy shade & sunblock, electric
APPLIANCES • ELECTRONICS • LIGHTING • AUDIO-VIDEO
HDMI & CAT6 shielded A/V cabling
Cook top, 2-burner Induction
5.1 surround sound system in LR
Stereo sound system in BR and Patio
Universal Remote Control (2)
iPad with A/V and Silverleaf control
Accent under counters & window trim
Refrigerator, Residential, 120v, w/ice & water in door.
Satellite system, HD DVR receiver
Satellite system, 2nd HD receiver
Siverleaf Total Coach Control panel
Tire Pressure Sensors, Remote
TV antenna – automatic domed Winegard Rayzar
INTERIOR LIVABILITY FEATURES
Powered step-well cover with two switch locations
Color-coordinated Foretravel Designed throw pillows (sofa & bed)
Foretravel Designed window treatment w/ electric day/night shades
Electric exhaust fan in bath & toilet room w/auto rain sensor
Filter, drinking water & ice maker water
Floor Heat, electric (with approved flooring)
120v outlet w/dual USB charge ports in LR and BR
Lighting, multiplex system
King Bed – Slumber Ease System
Slide-out rooms, flush w/ sidewalls when retracted
Slide-out rooms, pneumatic sealed
Natural Quartz countertops:
Desktop (floorplan dependent)
Stainless steel kitchen sink w/covers
Tile floor (kit, bath, D & P area)
All coaches built to RVIA specifications
Tyron® Bead‐Lock Tire Blowout Protection (front tires)
Fog-Maker Engine Fire Suppression System
Vorad Collision Avoidance System
Auto headlights and wipers
Lighted entry-door assist handle
CSA Approved / Transport Canada Approved
HEATING • COOLING • ELECTRICAL
12.5 kw diesel generator in quiet box
12 volt battery disconnect
(2) w/integrated AC/DC surge protectors
50 amp shoreline connection
Air conditioning & heating w/ offset returns for superior quiet operation
Air-conditioning, ducted with 4 roof airs
Auto temp. start for generator
50 amp automatic transfer switch w/ integrated surge suppression
Electrical surge-suppression system
Aqua Hot Hydronic heating
Low-battery generator auto-start
CAPACITEIS AND MEASUREMENTS
*Construction highlights, features & options are subject to change without notice and some standard features do not apply to all production units and or floor plans. All weights and measurements are approximate and may change without notice. All warranties are subject to exclusions & limitations; contact manufacturer for complete details. Maintenance program valid through network of authorized Spartan service facilities only. Contact Spartan for complete details and coverage information. Verify before purchase, The information contained on this website is believed to be accurate at the time of publication. However, during the model year, it may be necessary to make revisions and Foretravel reserves the right to make all such changes without notice, including prices, colors, materials, tile, equipment and specifications. For more details contact one of our Exclusive Dealers today.